2022 Shortlisted Nominee
Chief Executive of the Year Award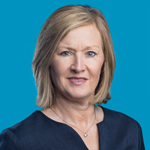 Caroline was appointed CEO of Financial Services Compensation Scheme (FSCS) in May 2019. She sits on the Board of Directors and is Chair of the Executive Committee. In addition to bringing a wealth of global experience in the financial services sector, Caroline is a role model and passionate advocate for diversity, inclusion and belonging. Under her leadership, female representation on both FSCS's Board and Executive Team has increased, with both now majority female for the first time. Caroline promotes a culture where open discussion can thrive, recognising the importance of this in driving positive and continued change. FSCS has received external recognition for their work in diversity and inclusion.  Caroline recently joined the Board of the Financial Services Skills Commission (FSSC), which works with the UK financial services sector, to ensure it has the talent and skills for the future.