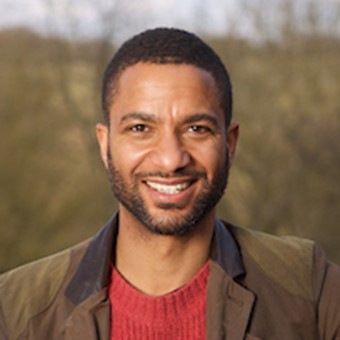 Sean Fletcher
Journalist and Television Presenter | @SeanFletcherTV
Mixed race (British-Zimbabwean), dual-nationality (British-USA), bi-lingual (English-Welsh), Sean is a journalist who represents modern Britain, combining a nose for a story, with an engaging warmth on camera and with contributors. His multicultural heritage and personable broadcasting style means he reaches out to a wide range of audiences.
Sean has reported and presented news and sport across the BBC, on ITV and Sky. He has hosted TV programmes on a wide range of subjects from religion to food, race riots and war time evacuees. His determination to learn Welsh alongside his children has also led to work in Welsh language documentaries and dramas.


I've worked in TV and radio for 25 years, and it's been clear to me that the most efficient, successful and happy workplaces in my career have been the most diverse. From gender to ethnicity and disability to age, the jobs that stand out for me for enjoyment and productivity, are those where inclusion is high on the agenda. So it'll be a real pleasure to return as host for an award ceremony that champions diversity and inclusion.
Career
Sean began his journalistic career reporting and researching for BBC Radio 4's Late Tackle programme and Radio 5 Live before moving to Cardiff producing packages for BBC One, BBC Two Wales and BBC Radio Wales. He then began working on BBC 2W, the digital TV channel for Wales, he also presented and reported on sport for BBC Wales Today.
From 2005 Sean presented sports bulletins on BBC News Channel. He also presented sport on BBC weekend news, BBC Breakfast and BBC World. Sean was also a news reporter and presenter for BBC London News.
From 2011 until 2014 Sean worked for Sky Sports News before leaving to join ITV as a sports newsreader on Good Morning Britain and, since 2020 a co-presenter of the programme, He also presented two seasons of ITV game show Rebound.
Since 2015 Sean has been an occasional reporter for BBC One's Countryfile and since 2017 has presented Sunday Morning Live and Inside Out London until it ended in 2021.
Other television credits include co-presenting Food Detectives and Britain's Classroom Heroes for BBC Two. Reporting on child mental health for Panorama and broadcasting from a range of national events including the First World War Armistice centenary and The Lord Mayor's Show.
Sean has presented a four-part living history series Evacuees, about child evacuees in wartime Wales and Riots In the Bay about the 1919 race riots in Cardiff, both in Welsh for S4C.
Sean raised £30,000 for Beating Bowel Cancer by winning ITV's All Star Mr & Mrs with his wife. He's also won an episode of Celebrity Mastermind, his specialist subject was Sesame Street.
In 2020 Sean made his acting debut in two episodes of BBC drama Keeping Faith.
Personal Life
Sean speaks fluent Welsh, sings, and plays the violin and piano. He has run several London Marathons to raise money for several charities. Sean also played for the Rest of The World team in ITV's Soccer Aid which supports UNICEF UK.
Sean is married and has two children.