2022 Shortlisted Nominee
Head of Diversity & Inclusion Award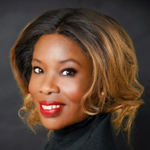 Christine led HSBC's WPB Network Diversity and Inclusion team. While at WPB Network she built a cohesive D&I ecosystem to connect, support and inspire senior leaders and 5,500+ Branch colleagues where none existed before. Christine's contribution has been revolutionary, restoring confidence and increasing engagement of ethnic minority colleagues. She developed the award winning 'Step Forward Sponsorship Programme' driving 350+ ethnically diverse colleagues into career sponsorship. Christine was the architect of the 'Infinite Ability Programme' for colleagues with a disability whose aim is to break down the barriers for career progression. Christine created a first of its kind D&I Local Director induction training programme on Equity, Equality, Diversity and Inclusion Externally, Christine works with the Department of Works & Pensions in running mentoring circles in HSBC and at DWP Job centres for Unemployed youth while connecting HSBC colleagues with the youth.