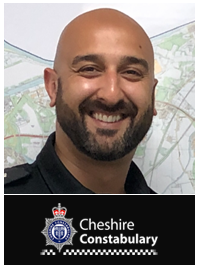 Cheshire Constabulary | T/Chief Inspector
I joined Cheshire Constabulary in 2005, having joined straight from university where I completed an LLb Bachelor of Law degree at Sheffield Hallam University. I have worked in a variety of frontline uniform and detective roles across Cheshire, having worked in Ellesmere Port, Chester, Northwich, Winsford and now Runcorn where I am currently the LPU Commander. I am a trained Hostage and Crisis Negotiator and a Bronze Public Order Commander. I have been involved with our staff network since early 2017 which was around the time where Cheshire hosted the fantastic National BPA Conference.
I am extremely proud to recently have been elected as the Chair of what is now Cheshire Constabulary Multicultural Network (formerly CCMEG) and to be able to take our network forward in continuing to support our members to flourish and also to promote the excellent work and engagement the network continues to do in our communities, in order to attract a diverse and representative workforce.