2022 Shortlisted Nominee
D&I Consultancy Award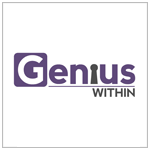 Over the past decade, Genius Within's team of organisational psychologists and business consultants have been measuring, evaluating and honing the 'standard services' of assessment, coaching, technology and training. Genius Within is a pioneering company which supports neurodiversity in the workplace. Their award-winning employability and justice services are delivered by occupational psychologists, coaching and employability professionals, who provide services throughout the UK, and as far as the USA & Australia. At Genius Within they flip the narrative, focusing on positive assessment. Over 4,000 adults in the UK benefit from their work every year, including in prisons and unemployment, with individuals going on to identify ambitious career paths and unprecedented success in employability and reoffending reduction. Within their in-work support services, they deliver tens of thousands strength-based coaching sessions, peer mentoring and workshops to develop cognitive skills and confidence.