2022 Shortlisted Nominee
Chief Executive of the Year Award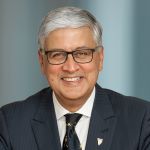 Since becoming the CEO of Diageo in 2013, Ivan has passionately championed inclusion and diversity across the company. In 2020 he launched a new 10-year sustainability action plan titled 'Society 2030: Spirit of Progress'. The plan sets out ambitious inclusion and diversity goals including to have 50% representation of women in leadership roles by 2030 and 45% from ethnically diverse backgrounds, as well as to increase Diageo's supplier diversity spend with diverse-owned and disadvantaged businesses to 15% by 2030. Over the last 18 months, Diageo has launched progressive policies and employee initiatives, including global Menopause Guidelines and Domestic and Family Abuse Guidelines. In 2021, Ivan opened Diageo's fifth global 'INC' week; an employee-led movement encouraging employees to celebrate diversity. Over the last year, Ivan has been recognised in the Empower Ethnic Minority Role Model Lists and INvolve Heroes Women Role Model Lists.