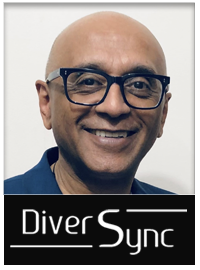 Director | Diversync
Jiten is an award-winning EDI strategist, and practitioner, a published author and blogger on matters pertaining to Inclusion through diversity. He has a background in Financial Services and, upon leaving his Diversity and Inclusion role at HSBC, Jiten set up his own company in 2001 and has worked with a vast range of clients from Blue Chip companies all the way through to small local charities.
As well as all the four nations of the United Kingdom, his work has taken him across Europe, the Middle East, Asia, America, and Australasia. He was the winner of the Diversity Champion (Education Sector) award in 2015 and received the 'Highly Commended Head of Diversity and Inclusion' award at the 2016 and 2017 Inclusive Company Awards. He was also a top 3 finalist at the 2011 Race for Opportunity awards for the design and development of his highly successful 'Aspire~' Positive Action Programme. He was the original creator of the Civil Service Learning's Positive Action Programme, Positive Action Pathway, which witnessed some 30% of staff achieving career related moves because of attendance on the programme.
In his spare time Jiten has been involved a variety of charitable work; he is a past Chair of 'Working Families' a charity specialising in assisting people and employers to implement effective agile working to facilitate work-life-family commitments. Since 2002, Jiten has been a trustee of several charities including 'MK SNAP' (a charity specialising in the needs of post 16 learners with learning disabilities) and the LPSOL (focusing on supporting people from South Gujarat who have settled in the UK). He is currently a director at Cricket East, one of the regional boards sitting under the England and Wales Cricket Board.
Jiten's first book, Demystifying Diversity (co-authored by Gamiel Yafai), was first published in 2016, with the second edition coming out in 2020. He is currently working on a third edition alongside two more books.