2022 Shortlisted Nominee
Head of Diversity & Inclusion Award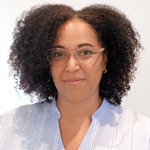 Jodie has dedicated her life to creating more equitable environments, workforces and societies. Jodie has worked across various sectors including creative, transport, energy, utilities and now automotive, all with the aim of creating more inclusive environments and ensuring everyone has fair and equitable access to these. In her current role as Head of Diversity and Inclusion at Sytner Group, Jodie works with the entire business to improve representation, build knowledge and awareness. As the first Head of D&I in an automotive retailer, she is aiming to inspire change across the industry. In her spare time Jodie continues to build on her passion, running workshops, volunteering, getting involved in additional projects and creating anti-racism content. In 2020, Jodie wrote A Definition of White Privilege, which aims to help people navigate the concept of privilege and how it affects our everyday lives.