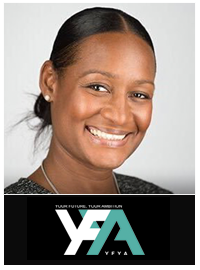 Your Future, Your Ambition

|

Co-Founder
Rashada Harry is recognised as one of the UK's Top 100 Ethnic Minority Leaders (Empower and Yahoo, June 2019).
Rashada is known in particular for her thoughts on diversity in the workplace, employee engagement and helping the next generation of talent reach their potential.
Rashada is an enterprise technologist at Amazon Web Services (AWS) in the UK as well as being a STEM ambassador and volunteer charity worker, having dedicated her time to projects in both Europe and Africa. Prior to AWS, she spent nine years with Cisco, joining them as the only black female on their highly competitive Europe-wide sales academy programme, where she realised that there was a need for more diverse talent in the technology industry.
She co-founded and launched the award-winning Your Future, Your Ambition STEM initiative in 2012 to help organisations and students connect and to help bridge the diversity gap. Over 6,000 students are involved to date.