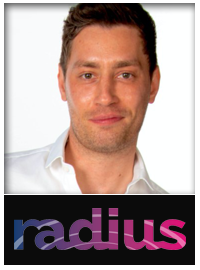 Founder | Radius Networks
The founder of Radius Networks, Matthew and his passionate team, help the world's biggest brands to empower their employee networks to drive diversity, equity and inclusion.
An award-winning entrepreneur, Matthew founded Radius in 2011. As a LGBT+ man dealing with the challenges of ADHD and dyslexia, he found a sense of belonging when he joined and later founded his own employee network. The experience was life-changing.
Seeing first-hand the power of employee networks to ignite change, Matthew set up Radius, the first organisation solely dedicated to supporting network leaders and turning their passion into action.
Leading the industry for over a decade, Radius now works with 750+ international organisations across more than 125 countries, including household names such as the BBC, Bank of America, Coca Cola, Disney, Meta, IBM, Warner Brothers, Ericsson, EY, Sainsburys, Microsoft plus HM Government.
Radius supports employee networks across all different types of diversity, helping businesses drive a bottom-up revolution. By developing network leaders, Matthew helps employers to build better, stronger networks that support communities' wellbeing and create a place where everyone belongs.
A National Diversity Awards winner, Matthew provides strategic support to many EDI businesses and has served on the volunteer board of Diversity Role Models and other charities.
Today Matthew is passionate about promoting human growth through cross cultural understanding and helping businesses connect globally across perceived divides. As more of us join the global, digital workspace.