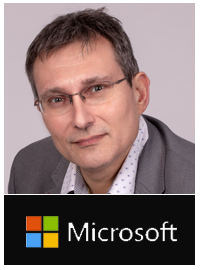 Microsoft UK
Accessibility Go to Market Manager, UK Disability Employee Resource Group Chair
Michael is Microsoft's Accessibility Go to Market Manager; his focus is landing Microsoft's commitment to bridge the "Disability Divide". Company-wide, alongside customers, partners, and communities, Michael's scope is to increase societal inclusion for people with disabilities. The commitment covers, technology, talent development and workplace culture.
Using his creative neuro-diverse thinking and passion for inclusion, Michael created Microsoft's Digital Inclusion offering, to empower inclusive organisations gain greater business advantage.
Michael also chairs Microsoft's UK Disability Employee Resource Group and was invited to 10 Downing Street to present his views on bringing disabled talent into work.
His personal proudest achievement is having brought Microsoft UK to Disability Confident Leadership status.
Michael received Microsoft's highest Platinum Club award for his work in disability inclusion.
Listed as one of "125 People to follow" on LinkedIn about Diversity and Inclusion, he is in the 2021 Disability Power 100, which celebrates Britain's most influential disabled people.