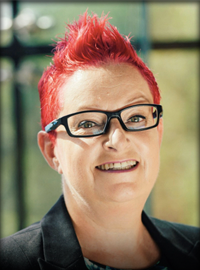 PROFESSOR OF COMPUTER SCIENCE AND TECHNOLOGY
A multi award winning Computer Scientist, Technology Evangelist and Digital Skills Expert, Professor Sue Black was awarded an OBE for "services to technology" in the 2016 Queen's New Year's Honours list. She is Professor of Computer Science and Technology Evangelist in the Department of Computer Science at Durham University, a UK government advisor, thought leader, Trustee at Comic Relief, social entrepreneur, writer and public speaker.
Sue set up the UK's first online network for women in tech BCSWomen in 1998 and led the campaign to save Bletchley Park, home of the WW2 codebreakers. Sue's first book Saving Bletchley Park details the social media campaign she led to save Bletchley Park from 2008-2011. Sue has championed women in tech for over two decades, founding the #techmums social enterprise in 2013 and the pioneering TechUPWomen retraining underserved women into tech careers in 2019.