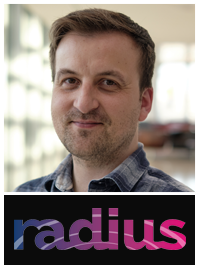 Head of Product | Radius Networks
Tim Macavoy is Head of Product at Radius Networks. Founded in 2011, Radius helps top global organisations to develop their EDI ecosystem, in particular employee networks and leaders.
Tim has a broad background in technology, media and the arts, with previous UX design positions at Microsoft and Government Digital Service. He also has practical experience of founding and leading diversity networks, from university to LGBT youth radio, Skype to the InterTech Diversity Forum.
Tim joined Radius in 2017 to launch their flagship Employee Network Leadership Programme.
Aside from work, Tim has had many adventures, from hosting the global Talk UX Conference, to being a juror at the Turin Film Festival, teaching slapstick to Korean children, writing a Superbowl advert, playing Juliet at Shakespeare's Globe, hosting a drinks podcast called No Tasting Notes, and working at Poundland.