2022 Shortlisted Nominee
Head of Diversity & Inclusion Award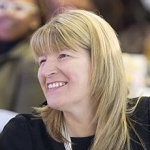 Liz is currently Group Head of HR – Corporate Functions and Inclusion, Diversity and Wellbeing having begun her Head of I&D role in 2018 – the first person to take on this global role for Anglo American. The challenge was not insignificant in a sector which is traditionally male dominated.  Since 2018, Liz has developed and evolved a Group I&D vision and strategy based on understood need and taken senior leaders on a sometimes controversial journey to a place where they are fully, and visibly, committed to inclusion and a psychologically safe workplace for everyone tackling issues such as gender balance, bullying, harassment and victimization and domestic violence. Their I&D strategy is now a core part of Anglo American's Sustainable Mining Plan and recognised as a crucial part in achieving their Purpose of 'Re-imaging Mining to Improve People's Lives'.