2022 Shortlisted Nominee
Chief Executive of the Year Award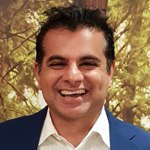 As a young person from a BAME background, Templeton's Founder and CEO Nadeem Ahmad was driven by the need for diversity and set out to lead diversity in tech and business. Templeton & Partners is a recruitment agency which was founded 25 years ago with a track record and a great portfolio of satisfied clients and candidates. Unlike most recruitment agencies, who use internal recruiters to grow their teams, Nadeem has kept this role as his own responsibility. In addition to performing as CEO, Nadeem also retains the job of hiring every single Templeton employee. In June 2021 Nadeem implemented a Diversity Advisory Council to give a voice to and involve Templeton's employees directly in the business. Nadeem pioneered remote work long before Covid-19 and has consistently reinvented the business to stay relevant with emerging tech trends, business needs and an ever-changing market.