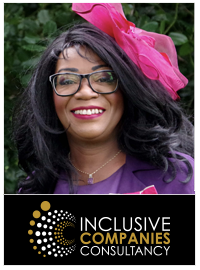 Inclusive Companies Consultancy | Lead Consultant
Sandra is a multi-award-winning leadership and management consultant, who brings more than thirty years of experience and knowledge spanning a wide range of sectors.
Her award-winning expertise includes Leadership, Management, People development, Organisational Change, DE&I and Membership growth.
Sandra currently holds a number of NED roles and has Chaired various regional and national organisations. Her work on equality has seen her speak at the EU Committee on issues of flexible working, equality in the workplace and the benefits of getting women back into work. She has conducted many local, regional, and national business growth and other projects across England, Scotland, and Wales, and in particular working to engage with underrepresented groups in the workplace and the community.
Sandra has worked with senior teams in a number of sectors including Banking, Human Resources, Transport, Manufacturing, Engineering, Police, Social Care, Higher Education, NHS, Membership, and the Voluntary sector.
In addition to Executive Coaching at senior level, her experience and skills incorporate discussion forums, facilitation, training, and development of programmes for Universities, Higher and Further education organisations as well as bespoke programmes for blue-chip companies.
Her business acumen has earned her numerous awards in recognition of her professional, community and business development contribution nationally.
She attained the status of Fellow of the Chartered Management Institute (CMI), Chartered Manager (CMgr), Fellow of the Institute of Consulting, having headed up this organisation for several years. Additional qualifications include 7407 & 7403 City & Guilds, Certificate Personnel Development CIPD, Level 7 & 5 Diplomas in Management, and a Masters in Creative Writing from the University of Leicester.
Sandra was recently listed in the Queen's New Year's Honours List 2021 when she was awarded the Order of the British Empire (OBE) for services to Equality.
Sandra is an international speaker, author, and equality activist working with senior leaders to recognise and incorporate the benefits of difference and creating equality within organisations.