2022 Shortlisted Nominee
D&I Consultancy Award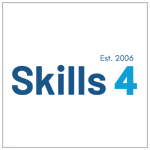 Skills 4 is a UK based training provider, leading diversity and inclusion initiatives within the STEM sector. The company was established in 2006, by the current CEO Jayne Little, in response to issues identified in the government-commissioned Report, 'Shaping a Fairer Future'. Initially focussing on gender diversity, their multiple award-winning Career Development Programme for Women has been delivered to over 10,000 individuals. During 2020 they updated all of their offerings. The Career Development Programme became the EMPOWER programme and was taken online to continue delivery, due to the global pandemic. Building on the successful framework of EMPOWER they launched THRIVE: Positive Action Career Development Programme. The THRIVE programme is designed to level the playing field enabling diverse talent to thrive in organisations, open to all diverse groups and has already been taken up by the majority of their existing clients.