2022 Shortlisted Nominee
D&I Tech Initiative Award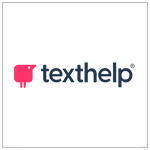 The Texthelp Group is a global technology company helping 50 million people all over the world to understand and to be understood. It has led the way in creating innovative technology for the education and the workplace sectors for the last three decades. Texthelp believes in a world where difference, disability or language are no longer barriers. It is focused on helping all people learn, understand and communicate through the use of digital education and accessibility tools. In education, the Texthelp Group provides literacy, numeracy and accessibility solutions to classrooms and remote learning environments worldwide. In the workplace, Texthelp's inclusion and accessibility tools are used by blue-chip companies, government and public services departments and the third sector globally. Texthelp is well on its way to achieving its goal of advancing the literacy and understanding of one billion people by 2030.